The profession of interior designer has been growing steadily for several years. It is an activity that requires energy, expertise and a lot of creativity to succeed in designing a beautiful space that suits the client's expectations. Do you have a degree in architecture / interior design and are you already doing this job? Do you want to become an entrepreneur and set up your own interior design business? In this article, we discuss the essential points to know before you take the plunge and become the head of an interior design company or join an existing one.
What does the interior design profession involve?
Interior design is a sector that encompasses several areas such as the hotel industry, restaurants or even hospitals for the creation of a decoration/design.
An interior designer's main aim is to make a space more attractive by going through a number of stages, such as studying the materials to be used and the aesthetic desired by the client.
Before that, he provides advice and he draws a plan of realization of the project in order to organize well a project, since that is one of the essential points of this trade, to be able to then start the work of the project after having assimilated the needs and the exact waitings of the customer. As you can see, the architect is not just a decorator.
To work as an interior designer, you need to have a university degree or state-approved training in the field.
What are the basic skills needed to set up an interior design business?
Entrepreneurship is not an easy field, it requires a lot of experience to be successful, especially as the architecture sector is constantly developing. You will therefore have to adapt to all the new developments, but the basic skills you need to have remain the same (knowing how to manage clients, how to arrange a room, how to arrange the decoration/decoration, how to draw up plans for the work, etc.).
Being passionate about interior design
To run a business in any field and succeed in all tasks, it is necessary to love and be passionate about what you do, as well as to have a minimum of expertise before starting.
This is the same for architecture, skills in architecture are essential, such as being passionate about interior design and decoration/decorating.
Having communication skills
In addition to having the necessary knowledge in the fields of interior design and decoration/decorating, good communication skills are also important in setting up a business.
As with any business, entrepreneurship puts you in direct contact with your customers. In order to gain their trust and loyalty, your interpersonal relationships will play a big part in your success.
Be informed about the world of entrepreneurship
To succeed in attracting a maximum number of clients in a competitive field such as interior architecture, design and decoration, you need to have the techniques and information necessary to run an entire business, as well as a successful strategy to achieve your goals.
In order to enrich your knowledge about setting up a business, several training courses are available on the Internet or in specialised centres.
Keeping up with trends
The world of design and decoration / interior design is constantly developing and expanding, people are becoming more and more interested and trends are constantly emerging.
In order to achieve the exact results that clients are looking for, it is important to keep up with the latest developments in interior design to ensure that your work is of high quality and appealing to people.
Things to know if you want to join an interior design firm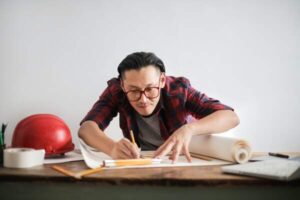 If you have a degree in interior design from a university or specialised school after your studies, and you want to gain experience or expertise before setting up your own firm, you can apply to existing interior design firms.
Here are our tips for getting recruited by them:
prepare a good CV, mentioning all previous experience in the field;
use LinkedIn and similar social networks to find job opportunities with interior design firms;
use websites that identify companies based in your area to post your CV.
After receiving a favourable opinion from the company, you will have to attend a job interview, and if you are successful, you will then only have to pass a practical test which will end with the signing of an employment contract if it proves successful.
The salary of an interior designer varies from company to company. In general, the monthly salary for a junior profile is around 2000 euros, but this can rise to 6500 euros per month with time and experience.